How to create stellar looking content with smart image decisions
Images bring your mailings to life, right? With our Bigstock partnership, it's easier than ever to find the perfect stock image for your email.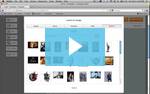 Video: Watch a short demo of Bigstock in action

And with our Aviary-powered editing tools, you can crop, touch up and add filters before dropping the final product right into your mailings.
Having access to these tools means you don't need a ton of graphic design know-how to give your mailings great visual appeal. Here are five quick tips to get you up and running:
1. Be consistent
Choose images in Bigstock that are relevant to the content of your email, and avoid applying different design treatment to each image. Aviary makes it easy to unify the look of your mailings by applying filters to the images in your mailing, but applying too many different filters could look a bit messy and amateurish.


Add filters with the image editor, which is powered by Aviary.
2. Use specific search terms, and remember to scroll down to see all the results
If you search for 'ice cream', you'll get these results:

But search for 'mint chocolate chip ice cream' and you'll be more likely to spot just the right image for your email (or just kick-start a craving, it turns out):

Remember, you don't have to use the first result – keep scrolling to get even more image variety. Bigstock has more than 12 million images in its database, to take the time to peruse all your options.
3. Keep it real (at least sometimes)
In Bigstock, you'll come across all kinds of images of people, and sometimes they'll fit the bill. But remember that the real folks in your organization are worth featuring, too. Email marketing is all about extending your brand experience to your online audience, so if your brand is largely about your people (like ours is), it's a-OK to include personal snapshots alongside stock imagery.
4. Balance text and images
It might be tempting to load up on images, but remember that balance is key. You want your images to complement your text, not overpower it. Live text not only works to balance out the overall look and feel of your mailing, but it also ensures that the email will look good in the event that a recipient's image display is turned off in the inbox.


Not all recipients will have images turned on in their email program, so it's important to have some text up top, too.
5. Stand by your brand
Make sure the image you use is true to your brand and works alongside your other marketing communication.


Found a stock image you can't wait to show off? Well done, sire. Just make sure it aligns with your other marketing efforts.